More on that forum fighting "CRT backlash" promoted by an NC school board member
Wake County Public Schools sitting board member Christine Kushner promoted the pro-CRT forum on her personal Facebook page
On Oct. 22, sitting Wake County Public Schools board member Christine Kushner promoted a forum on "activating parents in an age of CRT backlash" on her personal Facebook page.
During that event, the claim was made that anti-CRT backlash was "well-funded" yet it appears the groups behind the event are the well-funded ones.
Note: Critical Race Theory will be abbreviated in this article as CRT for the sake of brevity.
The video of that forum has now been posted online and here is a look at the groups involved.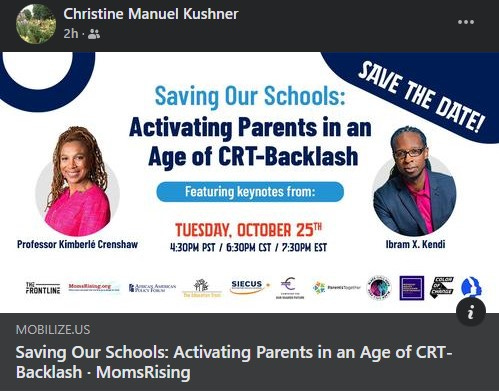 First, the video, which can be accessed on the Facebook page of a group called "The Frontline," and involving a long list of left-leaning organizations as partners.
Paid subscribers can read a breakdown of what was said in the video later on in the article.
The event's description reads:
#SaveOurSchools🍎 Activating Parents in an Age of CRT Backlash

The Frontline, in partnership with WomensMarch, MomsRising.org, Red Wine and Blue, The Education Trust, ParentsTogether, The African American Policy Forum, Campaign for Our Shared Future, Supermajority, MO Equity Education Partnership, Color Of Change, Siecus: Sex Ed for Social Change, and Black Girls Vote invites you to join the Saving Our Schools: Activating Parents in an Age of CRT Backlash event, where we will explore the truth behind hateful attacks on America's children, public schools, and diversity.

#ParentTeachIn #TeachTruth #ParentsPushBack
The Facebook page for The Frontline describes them as a political organization. A closer look at the group's website reveals it is "Paid for by Working Families Organization, Working Families Party, United We Dream Action, and by the Movement for Black Lives Electoral Justice Project, a project of Tides Advocacy, not authorized by any candidate or candidate's committee."
One of the groups involved in the event, including providing one of the hosts, is " SIECUS: Sex Ed for Social Change."
"SIECUS advances sex education through advocacy, policy and coalition building," according to its website.
Several of the groups have a presence in North Carolina, including Moms Rising and Red, Wine, and Blue.
At least one of the groups in the list has a recent hire in the Charlotte area. The Campaign for Our Shared Future (COSF) hired a woman named Jalisa Gale Johnson to serve as "Regional Field Director" at COSF sometime in 2021.
COSF claims its aim is "reframing the debate in favor of inclusion, representation, equity and truth."
A recent report by FOX News outlines COSF was created expressly to counter parents who are pushing back on Critical Race Theory. The FOX News report reveals COSF claims to be "grassroots" yet it is financially supported by the Sixteen Thirty Fund and New Venture Fund, which are arms of the largest liberal dark money network in the country - Arabella Advisors.
According to Washington, D.C. business records, Campaign for Our Shared Future, the group's 501(c)(3) educational arm, is fiscally sponsored by the New Venture Fund. Meanwhile, Campaign for Our Shared Future Action Fund, its 501(c)(4) advocacy arm, falls under the Sixteen Thirty Fund. The funds registered the respective groups in early May. (Source: FOX News)
According to a job posting by COSF, the group has "raised $6.6 million from private individuals and institutions and is "fully funded to launch." The posting says they are also attempting to round up $6.5 million more in contributions," according to the FOX News report.
Arabella Advisors, which operates as a grant pass-through for progressive and liberal causes, set up an office in Durham during the pandemic.
Keep reading with a 7-day free trial
Subscribe to More to the Story by A.P. Dillon to keep reading this post and get 7 days of free access to the full post archives.